Breast Augmentation
Breast Augmentation or breast implant surgery is a procedure that enhances the volume and shape of the breast and restores breast volume that may have been lost after childbirth and breastfeeding. According the American Society of Plastic Surgeons, in 2012, over 286,000 women underwent a breast augmentation procedure, making breast augmentation the most commonly performed cosmetic surgery procedure in the United States.

Breast augmentation with 375 cc silicone breast implants. *Individual results may vary.
Types Of Breast Implants
The two types of breast implants available on the market today are saline filled implants and cohesive silicone gel filled implants. We commonly refer to these implants by their shorter name, 'saline implants' or 'silicone implants'. The newest cohesive silicone implants were approved for cosmetic use by the FDA in 2006, after extensive research into their safety and performance. The principal advantage to the silicone implants is that the breast has a more natural 'feel', and there is less visible implant wrinkling. We use both Natrelle Allergan and Mentor breast implants for cosmetic breast procedures.
A third option exists for patients interested in a very natural appearing breast augmentation. Your own fat can be removed during a liposuction procedure and transferred into your breasts. A Lipo Augmentation procedure can typically achieve about a one cup size increase in breast volume. The advantage of the Lipo Augmentation procedure is that a very natural appearing breast augmentation is combined with a body liposuction procedure for a complete breast and body rejuvenation.
Incisions For Breast Implants
Both saline implants and silicone implants can be placed through three types of breast augmentation incision locations:
Infra-mammary (under the fold of the breast)
Peri-areolar (near the nipple area)
Axillary (underarm area)
Although most smaller silicone implants (less than 275-300 cc) that can be placed through an axillary or peri-areolar incision, larger silicone implants require an infra-mammary incision. Both saline and silicone implants can either be placed under or over the chest muscles (pectoralis muscle) depending on your anatomy and the 'look' that you are interested in achieving.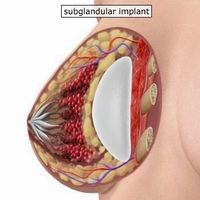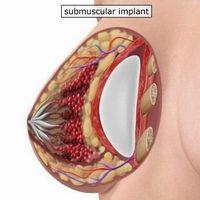 Muscle and implant relationship - the implant can be placed over the muscle (left) or under the muscle (right)
Most patients have the implant placed beneath the pectoralis muscles, and the implants appear to last longer and perform better in this submuscular position.
Breast Augmentation Photo Gallery
You may wish to browse through the gallery of representative before and after breast augmentation images. Click on any of the thumbnails to enter the slide show. The text accompanying the photos describes the details of the procedures performed.

*Individual results may vary.
What 'look' are you interested in?
During your consultation, you will be asked what type of 'look' you wish to achieve with your breast augmentation. Some patients prefer a very subtle, natural and proportional augmentation where the causal observer could not tell if the clothed patient has had a breast augmentation. Other patients may desire a more 'augmented' look with rounded fullness in the upper breast and exaggerated cleavage. Our plastic surgeons will customize the shape and size of the breast implant to your specific needs and desires. During the consultation we will often have you try on some samples of implants in front of a mirror while wearing a bra so that you may get a better feel for the amount of augmentation possible with different size implants. Our plastic surgeon has over a decade of experience performing breast augmentation surgery and it is a known fact that with breast implant surgery experience truly matters.
What type of anesthesia is used for breast augmentation surgery?
Breast augmentation surgery is done under general or IV sedation anesthesia. You will be able to discuss the anesthesia options with your surgeon and anesthesia provider. Breast augmentation surgery takes about one hour to perform, and is done on an outpatient basis.
What is the recovery process after breast augmentation surgery?
After a breast augmentation procedure, you will be prescribed pain medication to keep you comfortable. Most breast augmentation patients are back to full-time non-strenuous work within one week although individual healing experiences may vary. For several weeks after the surgery, you will wear a special bra that keeps the implants positioned properly and aids in the healing process. You may resume light, non-impact exercise (walking, stretching) immediately after surgery.
More About Breast Augmentation Incisions
There are three commonly performed incisions for breast augmentation surgery. These are, below the breast (infra-mammary), around the 'nipple' (peri-areolar) and through the armpit (axillary). Each of these incisions has advantages and disadvantages. There is a fourth incision, made in the umbilucus, which is rarely performed.
The infra-mammary incision is placed within the fold of the breast, and is generally well concealed beneath a bra or bikini top. It provides direct access to the pectoralis muscle and is by far the most common approach for placement of silicone breast implants. Within about a year, the surgical scar softens and lightens in color, making it difficult to see, even when unclothed. The length of the scar varies based on the size of the breast implant. Generally, very short scars (2-3 cm) are used to place saline implants. Longer scars (4-5 cm) are used to place silicone implants. The difference in incision length is because saline implants are filled after they are placed within the breast. Silicone implants come pre-filled and thus require a larger incision for placement.
The peri-areolar incision is placed at the junction between the darker areola skin and the lighter breast skin, along the lower border of the areola. This scar typically heals well but the size of the areola can limit the volume of silicone implants that can be placed. This incision will typically only permit the use of a small silicone implant. The scar is visible only when a patient is unclothed. The areolar incision can also be incorporated into a breast lift procedure, if necessary.
The axillary incision is placed within the skin of the armpit. The scar can at times be visible when the arms are raised. Since the incision is rather remote from the ultimate position of the implant, a video-endoscopic technique is used to accurately develop the pocket beneath the pectoralis muscle that will accept the breast implant. Larger silicone implants are difficult to place through this incision. In our surgical practice, the axillary incision represents a small percentage of the augmentations that are performed.
Breast Augmentation (Breast Implant) Costs
For breast augmentation procedures the all-inclusive cost for the procedure performed in our Bellevue plastic surgery center is $7,419 for silicone implants.
This cost includes all of the following components of a breast augmentation procedure:
Surgeon fee
Anesthesia fee
Operating room fee
Cost of breast implants
Post-operative surgical bra
All routine follow up visits with our board-certified plastic surgeon
The cost for breast implants at our facility is one of the most competitive in the Seattle and Bellevue region. Our costs are kept low for several reasons.
1. We own and operate our own Medicare and Washington State certified ambulatory surgery center. We are able to set affordable operating room fees because of the highly efficient way we run our ambulatory surgery center.
2. Because our surgeon performs a high number of breast implants we have a highly preferred pricing structure with the breast implant manufacturer and are able to obtain breast implants at a lower cost. We pass these savings on to our patients. Over the past 5 years our center has been one of Allergan's (breast implant manufacturer) top accounts nationally.
3. Our experienced anesthesia team specializes in safe and efficient outpatient cosmetic surgery, and offer competitive rates to cosmetic surgery our patients.
We typically use Allergan (Natrelle) implants for our cosmetic breast procedures. Mentor (Memory Gel) implants may also be used if requested.
The manufacturers of the breast implants used in our clinic warranty their breast implants. The details of these warranties will be discussed with you during your consultation.
Patients from Seattle, Bellevue, Kirkland, Tacoma, Spokane and Portland visit our clinic in Bellevue Washington for cosmetic surgery of the face, breast and body. We also see a large number of out of state and international patients who fly in to Seattle for our expertise in breast implant surgery.
I am interested! What do I do next?
If you are considering this procedure we encourage you to schedule a consultation with one of our plastic surgeons. During this visit they will listen to your concerns and discuss your options. They will tell you whether you are a suitable candidate for a breast augmentation procedure and inform you of the potential risks of the procedure. There is a great variety in breast shapes and features and each breast implant procedure must be custom tailored for the patient to get the best possible result. You will also have a chance to view before and after photo albums of patients who have undergone procedures similar to what you are considering.
Patient Reviews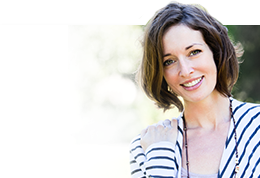 View »