Intensive Fotofacial
Fotofacial treatments use intense pulsed light (IPL) therapy to reduce facial redness from broken capillaries, rosacea, brown spots, and fine lines. Intensive Fotofacial treatments accelerate the effects of Fotofacial by using photodynamic therapy (PDT) through the application of Levulan to the skin prior to the procedure.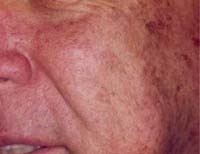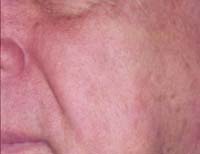 * Individual results may vary.
Links (see text below):
How does Intensive Fotofacial work?
Intensive Fotofacials turbo charge the many beneficial effects of Fotofacial treatments, providing long-term skincare, health and rejuvenation. Intensive Fotofacials use Levulan, which is 20% aminolevulinic acid and a naturally occurring substance in the body. Levulan is a photosensitizing agent, and when applied to the skin prior to IPL treatments, it works to activate the light to produce highly charged radical oxygen atoms - expediting the removal of broken capillaries, wrinkles and irregular pigmentation caused by sun damage. Intensive Fotofacials also have been used by people of all ages to dramatically reduce the appearance of acne. Intensive Fotofacials using Levulan inactivate the bacteria that triggers acne, exfoliate the skin to unclog pores, and Levulan treatments shut down the sebaceous glands in the skin. Sebaceous glands are the root cause in the formation of acne.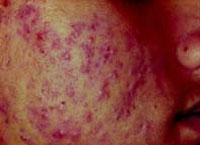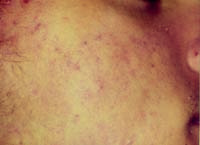 Before After
* Individual results may vary.
Intensive Fotofacial treatments also provide significant health benefits by improving pre-cancerous conditions such as actinic keratosis, and potentially preventing the development of skin cancer.
How many treatments will I need?
Results are unique to each individual depending on several factors including skin tone, extent of sun damage, and pigmentation. Typically a number of treatments are necessary for optimal results. Treatments should be performed over three to four week intervals in order to maximize the outcome.
Am I a good candidate for Intensive Fotofacial?
Intensive Fotofacial treatments are ideal for patients who want faster and more visible results than would be seen with Fotofacial alone. Dr. Naficy and his trained staff will personally assess your skin type to determine whether you are a good candidate for Intensive Fotofacial.
Is the treatment painful?
The discomfort of intensive Fotofacial (aka Fotofacial with Levulan or photodynamic therapy) is typically no greater that of a standard Fotofacial treatment and requires no anesthesia or other form of pain control.
What will happen after the treatment?
You may experience temporary redness, flaking and itching in the treated area. Oftentimes veins, capillaries and spots may appear more visible. Side effects from Intensive Fotofacial treatments typically disappear within a few days. In the majority of cases, you may immediately apply cosmetics and return to normal daily activities following Intensive Fotofacial treatments.
Should I be doing anything in preparation for my treatment?
It is extremely important to avoid all sun exposure and tanning (including artificial tanning products and procedures) for at least 24 hours before and after your treatments. You should apply an SPF of 30 or higher on treated areas at all times.
Contact Us
If you are interested in Intensive Fotofacial please fill out this Laser Inquiry Form. You will find our staff to be knowledgeable, professional, accommodating, and honest.
Patient Reviews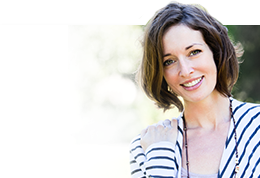 View »