Thermage for Cellulite
According to a recent study nearly 90% of women experience some degree of cellulite. Thermage cellulite treatment is a non-surgical alternative for getting smoother skin. This treatment is ideal for patients who have tried diet and exercise or even other cellulite treatments without success. Naficy Plastic Surgery & Rejuvenation Center is Seattle's premiere Thermage treatment center with over 18 years of experience with both non-surgical and surgical rejuvenation procedures. We don't just offer treatments. Rather we offer solutions customized to each patient's specific needs, desires, expectations, and budget.
Links (see text below):
What is the Thermage procedure?
Thermage cellulite treatment is a non-surgical, non-invasive, no downtime treatment that is clinically shown to reduce the appearance of cellulite, as well as tighten, firm, tone, contour and rejuvenate skin for most patients to help naturally restore a more youthful appearance. The Thermage procedure is administered in a doctor's office using the ThermaCool system, FDA cleared for the non-invasive treatment of cellulite, wrinkles and folds, which utilizes a unique form of monopolar Capacitive Radiofrequency (CRF) technology to firm and tighten existing collagen, increase circulation to fatty tissues, and stimulate new natural collagen production. Immediate results from Thermage may be visible, but as new collagen is produced by your skin, Thermage results continue to improve for up to six months. The Thermage procedure is fast and easy, and requires no downtime from normal activities. Unlike lasers, the procedure can be performed on patients of all skin color.
How does Thermage work?
Thermage works by heating deep collagen fibers in the skin and underlying tissue, while protecting the skin's surface with a cooling spray. The treatment is performed with the patented ThermaCool device. The Thermage tip gently touches the skin, delivering the non-invasive CRF energy deep beneath the skin. This deep uniform heating action stimulates the skin to create new collagen and to remodel existing collagen. The aging connective tissues responsible for cellulite are rejuvenated, and circulation is improved to help smooth skin and reduce the appearance of cellulite. Some results are visible immediately following the Thermage procedure. Over time, new and remodeled collagen is produced to further improve skin contours.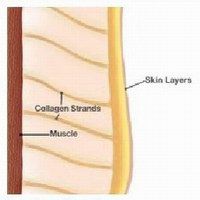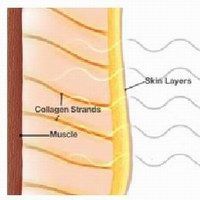 With aging, the collagen strands that support the skin becomes loose (left) and the fat lobules become more visible.
Thermage penetrates the collagen strands (right) stimulating them to remodel and tightens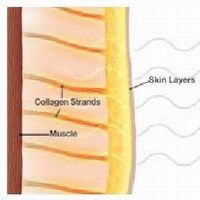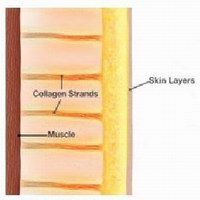 the collagen strands tighten, they increase circulation, tone the skin, and reduce the appearance of cellulite.
Sometimes the effect of Thermage may be immediate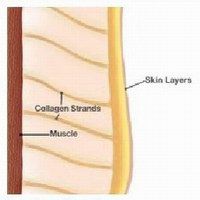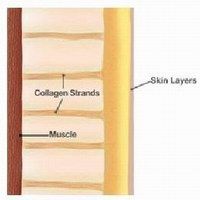 Remodeling of the skin (left) continues for months after Thermage.
Results of Thermage treatment (right) are typically fully visible after 4-6 months
Before & After Thermage Cellulite Photos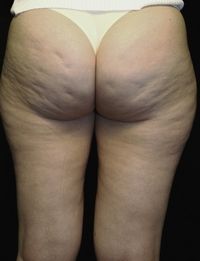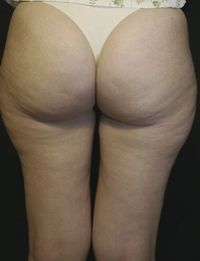 Before After
Thermage treatment for cellulite. * Individual results may vary.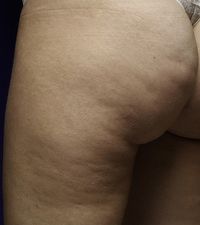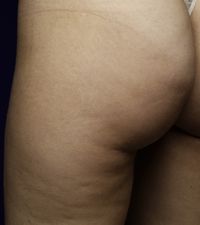 Before After
Thermage treatment for cellulite. * Individual results may vary.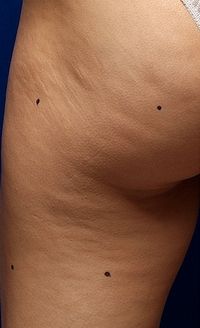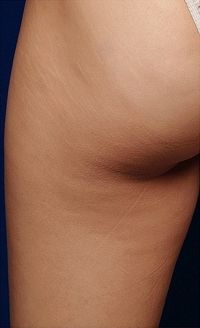 Before After
Thermage treatment for cellulite. * Individual results may vary.
How long does the Thermage procedure take?
The Thermage procedure is a completely non-invasive, safe treatment that is performed only in a doctor's office by medically trained professionals. Depending on the size of the area to be treated, the procedure may take as little as one hour or up to two hours for larger areas.
How many Thermage treatments will I need?
A number of Thermage treatments may be needed to achieve the best possible outcome. The treating provider will determine the course of treatment that is right for each patient, based on the patient's needs and goals. Many of our Thermage patients choose to repeat the procedure to further improve the appearance of their skin.
When will I see results from Thermage?
Immediate results may be visible after Thermage and will typically improve over time. Additional improvements appear gradually over a two to six month time period following a single Thermage treatment session.
Where on the body can the Thermage procedure be performed?
Thermage cellulite treatments are typically performed in the following body areas:
What other treatments may be combined with body Thermage?
Thermage treatments can be combined effectively with Cellfina Cellulite Reduction for even more dramatic results. Cellfina is more effective at treating deeper and larger cellulite dimples. Thermage combined with Cellfina can provide a cellulite reducing and skin tightening treatment - all without surgery or downtime. Thermage may also be combined with liposuction for more dramatic and immediate results.
What does the Thermage procedure feel like?
With each touch of the Thermage device, the patient experiences a brief sensation of deep warmth heating as the CRF energy is delivered to the skin and underlying tissue. This deep heating sensation is an indication that collagen is reaching effective temperatures for tightening. To protect the skin and make the treatment more comfortable, the surface of the skin is cooled before, during, and after each application of CRF energy. Patient feedback on the level of heat sensation experienced during the Thermage procedure will help guide the doctor to balance procedural comfort with maximum results. The provider at times offer light pain medications prior to treatment to minimize sensation.
How long will the effects of the Thermage procedure last?
The Thermage procedure may in some instances immediately tighten existing collagen as well as continue to stimulate new natural collagen production for up to six months following the treatment. Results of Thermage may last for years depending on your skin condition and aging process.
Is the Thermage procedure safe?
The Thermage procedure has an excellent safety record. With over 470,000 estimated worldwide patient treatments to date the reported incidence of side effects is less than 0.4%. The most frequently reported incidents are classified as swelling, redness, bumps, and rarely blisters on or around the treated area. These side effects may resolve in a few days or weeks. Consult with your provider regarding this and any other questions you may have on the safety record of the Thermage procedure.
Is Thermage the only radiofrequency technology on the market today?
While there are other skin care technologies that use radiofrequency energy (such as Polaris and Titan), only the Thermage proprietary monopolar capacitive radiofrequency technology delivers deep uniform volumetric heating powerful enough to naturally tighten and contour skin and underlying tissue. Also, Thermage achieves results in a single treatment compared to other technologies that may require five or more treatment sessions.
Contact Us
If you are interested in Thermage FLX or other rejuvenation procedures offered by Naficy Plastic Surgery & Rejuvenation Center please fill out this Laser Inquiry Form. You will find our staff to be knowledgeable, professional, accommodating, and honest.
Patient Reviews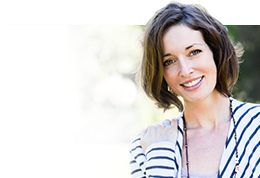 View »