Fraxel Laser Resurfacing
Fraxel is the most advanced and popular aesthetic laser treatment available for reversing signs of skin aging without significant down-time. The Fraxel laser has been used effectively in treating over 800,000 patients worldwide for a wide range of skin complaints. Naficy Plastic Surgery and Rejuvenation offers the most advanced version of the Fraxel laser - the Fraxel Dual. The Fraxel Dual has the original wavelength of 1550 nm but also adds the 1927 nm wavelength which is particularly helpful with sun damaged skin.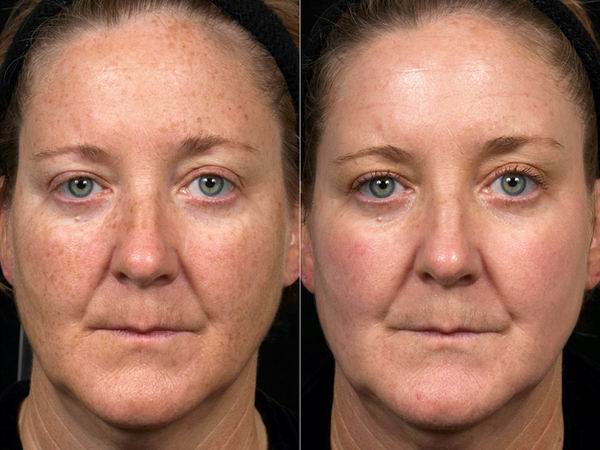 Before and 2 weeks After Fraxel treatment. * Individual results may vary.
In typically one week after your Fraxel treatment you will start noticing
Reduction of fine lines and wrinkles
Improved skin texture
Tightening of facial and neck skin
Reduction of pore size
Reduction of unwanted pigmentation
Reduction of precancerous sun spots (actinic keratosis)
Improvement in appearance of scars (e.g. acne scarring and stretch marks)
Another very useful aspect of Fraxel laser resurfacing is that the treatment intensity can be varied to accommodate for your available down-time. A lighter, low-intensity treatment is compatible with a weekend downtime and gives you light rejuvenation and a healthy glow. A heavier, more intense treatment may require 5-7 days of recovery time, but offer significantly more improvement of the fine lines, wrinkles and sun damage.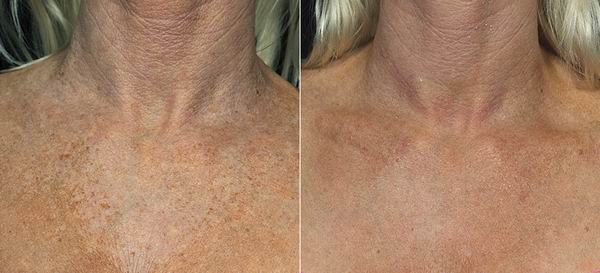 Before and After 3 Fraxel treatments to the chest. * Individual results may vary.
Am I a Good Candidate for Fraxel?
If you are interesting in improving the quality of your skin and reducing signs of sun damage, fine lines, wrinkles, acne scars, and achieving an overall smoother and more radiant skin without the significant down-time of traditional CO2 lasers, the Fraxel may the perfect treatment for you. Most patient choosing the Fraxel laser are interested in the following improvements to their skin:
Stimulating collagen for younger,smoother, and more radiant skin
Reducing visible signs of facial aging including fine lines and wrinkles
Reducing acne scarring
Reducing melasma and blotchiness due to sun damage
Rejuvenating the face without the down-time of traditional CO2 lasers
One of the main advantages of Fraxel laser over other resurfacing lasers is that the Fraxel can be used to treat skin all over the body and can treat people of all skin colors. Fraxel treatments can be performed on the following areas:
Face
Neck
Chest
Arms
Hands
Acne scars
Stretch marks on the body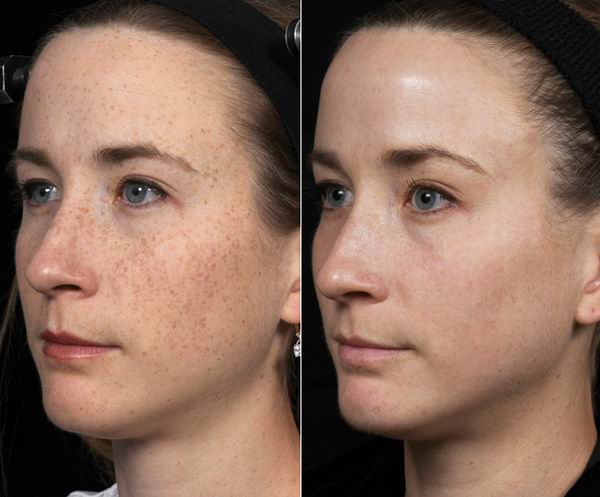 Before and 2 weeks After two Fraxel treatments. * Individual results may vary.
How does Fraxel Work?
Fraxel laser skin rejuvenation targets damaged skin with microscopic laser columns that penetrate beneath the skin surface. It has been in use for more than a decade in over 800,000 patients throughout the world.
The main advantages of Fraxel over the traditional CO2 or Erbium resurfacing lasers is that Fraxel is non-ablative and fractional.
Non-ablative means non-wounding. The Fraxel Dual laser does not break or remove the surface of the skin and does not create a wound which would need a longer healing period.
Fractional means that the Fraxel laser treats only a fraction of skin tissue at a time. Fraxel skin resurfacing treats thousands of microscopic sites on the skin but also leaves thousands of adjacent zones of skin around the treatment area untreated, which promotes rapid healing.
Is Fraxel Painful?
Your comfort is a top priority at Naficy Plastic Surgery & Rejuvenation Center. Your provider will use a number of tools before, during, and after the procedure to help reduce the discomfort related to the procedure. These include, numbing creams, pre-procedure pain medication, skin cooling devices, ice packs, and post-procedure pain medication if needed.
How is the Recovery after Fraxel?
Fraxel recovery is significantly easier than the lengthy recovery needed for ablative CO2 laser resurfacing. During the first 24 hours after treatment the treated skin will feel as though it is sunburned and may appeare pink or red. This is followed over the next 1-2 days by swelling and a darkening effect referred to as bronzing. Once the skin has bronzed it will then start to flake and peel. You should keep the skin moist and hydrated and not pick at it. Make-up, ideally mineral-based, may be worn as early as 4-5 days although individual healing times may vary.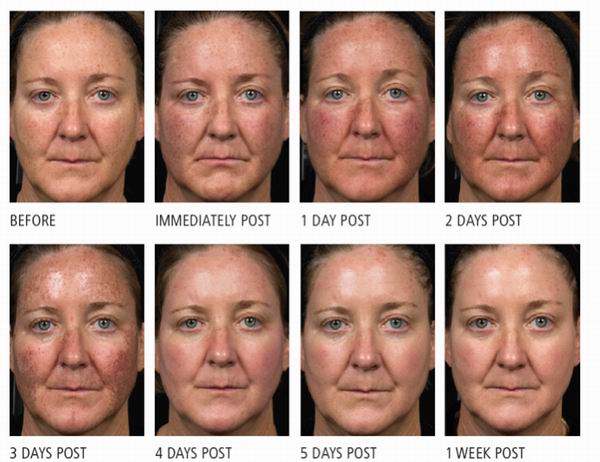 * Individual results may vary.
Can Fraxel be used for acne scars?
Fraxel is one the most effective treatments available for improvement of acne scars. Fraxel for acne scars requires a series of treatments (as little as 3 and as many as 6) but has no downtime. Because Fraxel penetrates deeply in the skin, it can get to the base of the scar and work by stimulating new collagen production, essentially rebuilding skin that has been scarred by acne. The average amount of improvement possible with mutiple treatments is around 50%. Other options for acne scars are traditional ablative CO2 laser resurfacing and Bellafill injections.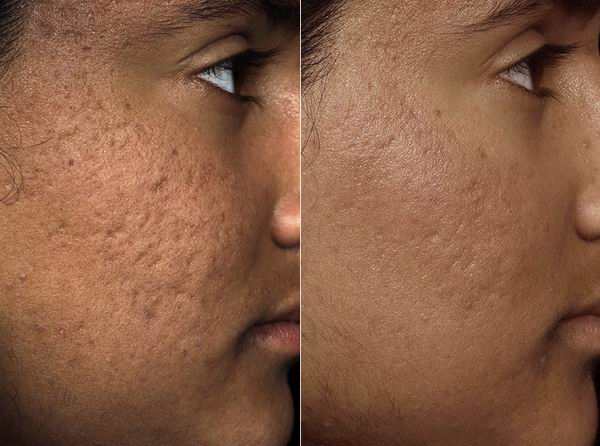 Before and After 5 Fraxel treatments for acne scars. * Individual results may vary.
How do I know if I am a good candidate for surgery?
The best way to know of course is to come in for a consultation, but if you don't have time for that, the next best thing would be to submit a few photos to us which we can have reviewed by the surgeon and get back to you with a recommendation.
Contact Us
If you are interested in Fraxel Laser Resurfacing please fill out this Laser Inquiry Form. You will find our staff to be knowledgeable, professional, accommodating, and honest.
Patient Reviews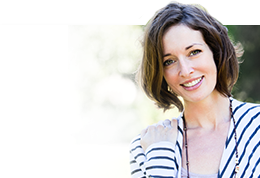 View »