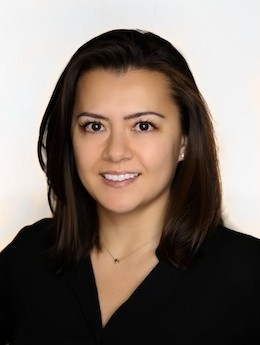 Elena Moye Johnston
MBA, COO
Elena is Naficy's Chief Operating Officer and has been with the practice since 2018.
She is a University of Washington MBA Graduate with over 16 years' experience driving strategy for multimillion-dollar brands in the games, lifestyle, and tech industries.
Elena has provided directional leadership for global brands such as Pokémon, Star Wars, Minecraft, Magic: The Gathering, with New York Times Bestselling authors, and Premier Health Clubs.
However, Elena is no newcomer to the health and medical field. During high school, she volunteered on the Neurology Ward at Madigan Army Medical Center. And as an undergraduate student at the University of Washington, Elena worked as a Research Assistant studying bone center maturation at the UW Infant Primate Research Lab for the Anthropology Department, animal enrichment programs at the Woodland Park Zoo for the Psychology Department, and comparative research between dinosaurs and modern avians for the Geology Department.
Despite her flourishing marketing career with industry leaders — Hasbro and Microsoft — Elena couldn't leave her passion for the health and medical field behind. Elena also held an Affiliate Faculty position at Edmonds Community College for 8 years teaching a variety of classes for the Health & Human Services Department including Emergency Response, Advanced First Aid/CPR/AED for healthcare workers, Contemporary Health Issues, and more.
Continuing her love of wellness, Elena completed University of Washington's Sports Medicine & Human Performance program, holds certifications in Yoga (E-RYT, YACEP), Pilates, Barre, TajiFit (Tai Chi flow), and has accumulated over 9,000 fitness teaching hours.
Outside of work, Elena is an avid Seahawks fan, a UW Husky Football season ticket holder, is a bit of a wine snob, and enjoys donating to charitable causes:
Elena holds an MBA with a focus in Change Management from the University of Washington.
Expand All +
Education
Master of Business Administration (MBA), University of Washington — 2006
Sports Medicine & Human Performance, University of Washington — 2008
Academic Positions
Affiliate Faculty, Health & Human Services Dept., Edmonds Community College (2008-2016)