Radiesse
Radiesse is a new generation non-surgical facial contouring filler that delivers an immediate result as well stimulating collagen production over time. The unique composition of Radiesse provides immediate visual improvement common with other fillers, but with the benefit of long-term effects. This is because Radiesse is made of very tiny, smooth calcium hydroxylapatite microspheres. The microspheres form a lattice beneath the skin, through which your body's own collagen grows. This produces the desired longer-term effect seen with Radiesse over other dermal fillers.

Before and After treatment of facial volume loss using Radiesse.

* Individual results may vary.
What is Radiesse?
Radiesse is composed of calcium hydroxylapatite microspheres suspended in a polysaccharide carrier. Calcium hydroxylapatite is very similar to the natural composition of our teeth and bones. When injected in the skin, the microspheres form a type of scaffolding underneath the skin. When the microspheres are absorbed within the scaffolding, a collagenation takes place - creating longer lasting volume in the treated area.
What can Radiesse treat?
Radiesse is used effectively as an alternative to surgery for facial contouring. Radiesse can be used to add volume to sunken cheek bones, create the effect of an injectable chin implant, create a more pronounced jaw line, or even as a method of non-surgical nose reshaping.
Radiesse is also used as a longer-lasting dermal filler to treat signs of aging caused by loss of volume under the skin. Radiesse is commonly used to add volume under the eyelids to reduce dark circles, as a treatment for sunken cheeks and to treat deeper creases and folds in the skin such as nasolabial folds and frown lines.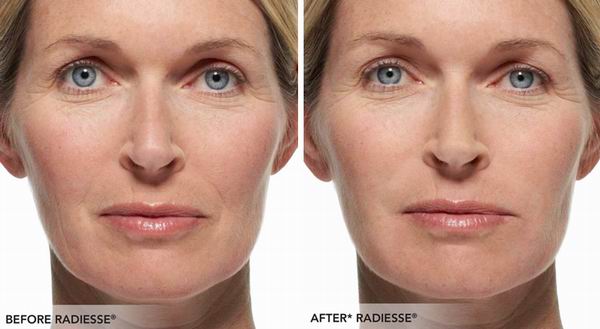 Before and After treatment of facial volume loss using Radiesse. * Individual results may vary.

Before and After treatment of facial volume loss using Radiesse. * Individual results may vary.
Who is a candidate for Radiesse?
Any person who wishes to reduce the signs of aging, and is seeking a longer-lasting result, is potentially a candidate for Radiesse treatments. Your Provider will determine if Radiesse is the best option for you based on your overall goals.
Can Men use Radiesse?
Radiesse is a great treatment option for men of all ages wishing to look younger and more attractive but who are not interested in more invasive surgical procedures. Results of Radiesse in men can be very subtle and natural and minimal to no down-time is required.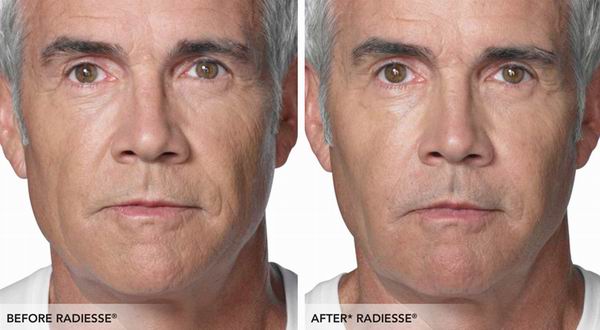 Before & After Radiesse injection in male. * Individual results may vary.
Radiesse for Hands - Are your hands giving away your age?
As we age, our hands lose their youthful volume, firmness and plumpness and begin to look bony and veiny. The skin often turns thin and crepey and came become flecked with brown spots from years of sun exposure. Radiesse is an excellent filler for the hands with a proven safety record. Radiesse injections replenish volume to the back of the hands and provide a supple and youthful appearance instantly. When placed beneath the skin, Radiesse lifts the skin level so that tendons, joints and veins are less visible, resultiong in younger looking hands.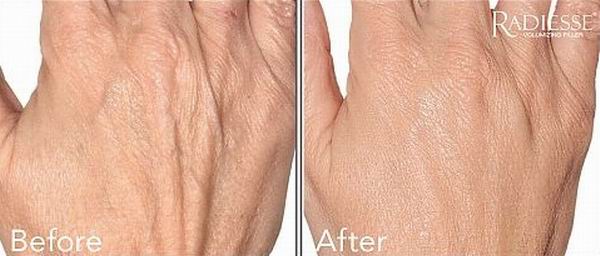 Before & After Radiesse injection in the hands. * Individual results may vary.
Who performs Radiesse treatments?
Naficy Plastic Surgery & Rejuvenation Center is the leading center in the pacific northwest for cosmetic injections. Our experienced team of injectors perform thousands of injections every year and have placed our clinic as one of the top aesthetic services centers in the nation for many consecutive years. Radiesse is a perfect option for those with busy schedules - same day appointments are offered, depending on availability. Our goal is to provide you with the safest and most effective Radiesse treatment possible which we custom tailor to your unique facial anatomy.
What other cosmetic treatments may be combined with Radiesse?
One of the greatest combination treatments involves the simultaneous use of Radiesse and Botox. With this combo treatment, an "instant face lift" may be achieved by using Botox in the brow and forehead region, and Radiesse to add volume to the face.
Does it hurt?
Typically no anesthetic is needed for Radiesse injections. Most patients experience very minimal discomfort. Anesthetic and special cooling devices are available to increase your comfort.
What is the recovery like?
In general, no recovery time is needed and the results from Radiesse are immediate. You will be instructed not to rub the treated area for a couple of hours after the treatment. You may experience some swelling and bruising at the injection site, but any discoloration is temporary and can be covered with your usual cosmetics.
I am interested! What do I do next?
If you are considering Radiesse injections we encourage you to complete this Injectables Inquiry Form. After careful analysis of your face, we will tell you whether you are a suitable candidate for this procedure and inform you of the alternatives and potential risks of the procedure.
Patient Reviews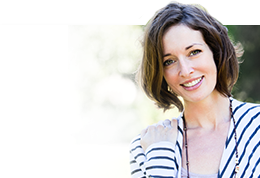 View »