Cellulite Reduction
Cellfina For Cellulite
Once again, Naficy Plastic Surgery & Rejuvenation Center is proud to be the first clinic in the Seattle, Bellevue, and the entire state of Washington to offer this revolutionary treatment for cellulite. The Cellfina system is a minimally invasive and FDA cleared procedure designed to treat cellulite on the buttocks and thighs. Unlike other cellulite treatments, the results of Cellfina appear to be longer-term. Cellfina is the cellulite solution that we have all been waiting for - one that actually works!

Cellfina is the FDA approved for Cellulite treatment
What causes Cellulite?
It appears that the main cause of cellulite is not so much related to excess fat. The irregular, lumpy, and dimpled cellulite is related to how the underlying fat is compartmentalized and, to how the underside of the skin is tethered inward by cords of fibrous tissue. These fibrous bands (cords, or septae) are the key cause of cellulite and this is where Cellfina comes in.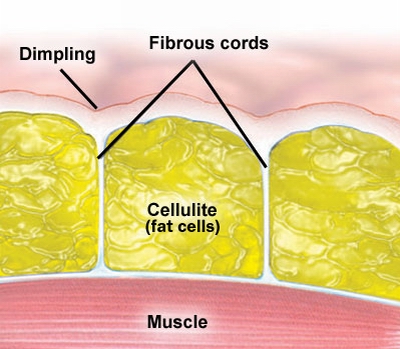 Cellulite is caused by fibrous cords which connect the underside of the skin to the deeper layers creating a dimpled and lumpy appearance
How are Cellfina results?
Cellfina results are the most impressive and promising of any previous cellulite treatment. A significant improvement in the appearance of cellulite can often be seen within a few days after treatment. Final results of Cellfina treatment have been known to last at least twelve months for most patients, which is the longest FDA clearance for the treatment of cellulite.


Cellulite reduction after Cellfina treatment. * Individual results may vary.
How does Cellfina work?
Cellfina is performed in the clinic setting using local anesthesia (numbing medication). Areas of skin containing cellulite dimples are placed under vacuum suction using a glass chamber. This suction process stretches out the fibrous cords responsible for cellulite to get them ready for the next stage.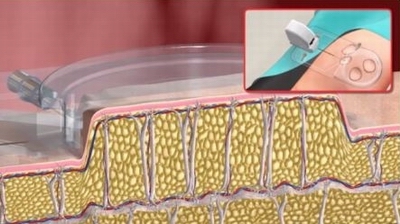 Cellfina's patented vacuum system sucks the skin against a sealed chamber and stretches the fibrous cords responsible for cellulite
The next stage involves a small, needle-sized device permanently releases the fibrous cords that are responsible for cellulite on the surface of the skin. Cellfina's patented system has a precision-guided needle which oscillates at high speeds permanently releasing the fibrous cords responsible for cellulite. During Cellfina treatment you can literally see the cellulite dimples disappear! For most patients, only a single treatment is needed to achieve optimal outcomes.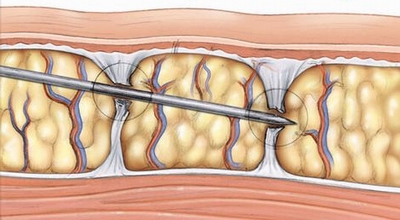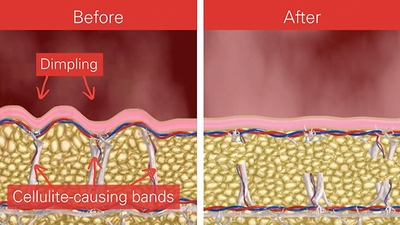 Cellfina's precision-guided needle releases the fibrous cords causing cellulite
How long does the Cellfina treatment take?
Depending on the number of areas being addressed, the Cellfina treatment typically takes about 30-45 minutes to complete, although this will vary by individual and the number of cellulite dimples being treated.
Does the Cellfina treatment hurt?
Because numbing medication is injected in the treatment sites, the majority of patients describe the discomfort experienced during and after Cellfina treatment as mild. To minimize discomfort, oral pain and anxiety medication is offered to patients who are able to get a ride home. IV sedation is also available for our patients who would rather be out for the procedure! Cellfina treatments can also be performed in the operating room in combination with other breast and body procedures.
Is there any downtime associated with Cellfina?
Although bruising and soreness may occur in the treatment areas, these side effects often dissipate relatively quickly. In clinical studies, more than 90% of patients had no signs of bruising four weeks after the procedure. Many individuals are able to return to normal activities the same day, although this will vary on an individual basis.
What is the cost of Cellfina treatment?
The cost of Cellfina treatment varies based on the number and severity of cellulite areas being treated. The cost of Cellfina starts at $3500 for patients with 10 or fewer cellulite dimples. A complimentary in-office consultation and evaluation is needed to give you a precise estimate.
I am interested! What do I do next?
If you are considering Cellfina treatment for cellulite we encourage you to complete this Injectables Inquiry Form. Our Injectors will assess your skin and cellulite severity and will tell you whether you are a suitable candidate for Cellfina as well as inform you of the alternatives and potential risks of the procedure.
Patient Reviews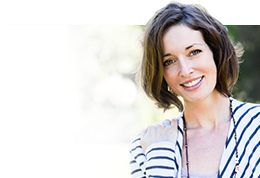 View »